ReFinD organized an inception meeting for the successful applicants of its second Request For Proposals (RFP2). The virtual meeting provided a space for the newly selected grantees to deepen their understanding of the processes and expectations of the ReFinD grant, and learn about the projects of fellow grantees. The grantees represent six institutions from three countries.
Executive Director, Prof. Peter Quartey, welcomed and congratulated the grantees. He affirmed ReFinD's commitment to working closely with the recipients in furthering the Initiative's aims.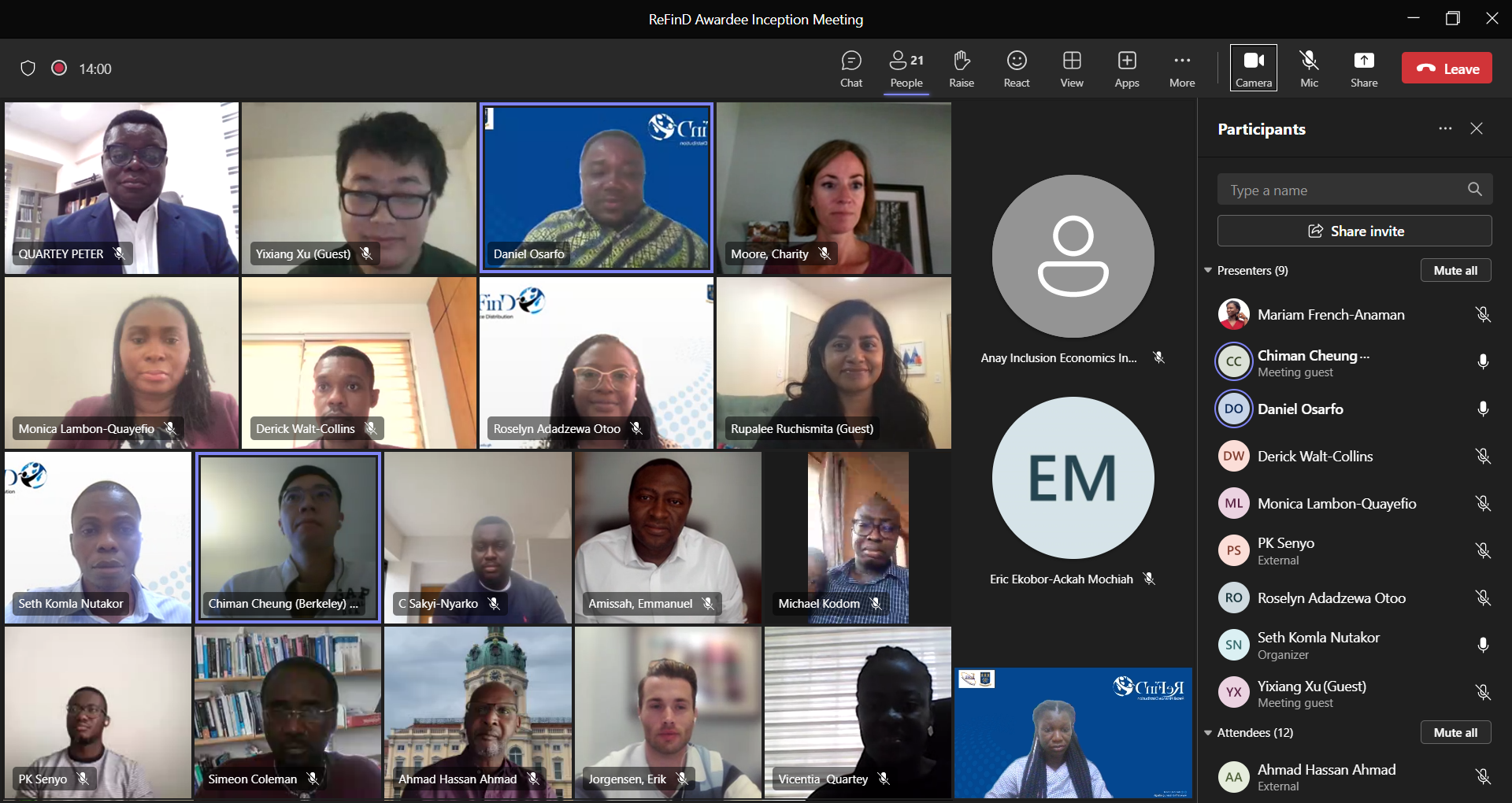 Ms. Adadzewa Otoo, the Project Director of ReFinD, provided an overarching view of ReFinD and a comprehensive briefing on the RFP2 process. In a subsequent segment, Mr. Seth Nutakor, the Grants Manager, outlined the critical financial and progress of research reporting required from the grantees.
Presenting on the topic, communicating our work and achievements: the role of grantees, Communications Manager, Ms. Vicentia Quartey, underlined the important role of communications in delivering the benefits of the ReFinD research initiative to stakeholders and the broader society. She outlined the initiative's key communication collaterals and channels ---  highlighting how the initiative would support the dissemination of the research by grantees and what will be required from grantees to achieve the objectives.
Dr. Daniel Osarfo, the Post Doctoral Fellow on the initiative, presented on the ReFinD data repository. He noted that the repository will store and manage access to reports and data from all funded projects. He stressed the role of grantees in building a globally-impactful data resource on agent banking and financial inclusion.
The grantees also had the opportunity to share insights into their research projects, notably the motivation, objectives, and expected outcomes. This session not only showcased the diverse range of projects under the RFP2 umbrella but also enabled an environment of knowledge exchange and networking, key elements for fostering learning and future collaborations.
The resounding sentiment of the meeting was one of commitment and a shared purpose, setting the stage for the new grantees to collaborate, innovate, and contribute evidence to expanding agent networks to the last mile.
The new group of grantees joins 11 grantees from the first RFP call, bringing to 17 the number of grantees currently working on ReFinD-funded projects across eight countries in Africa and Asia.
The ReFinD team congratulates the RFP2 grantees once again and wishes them an enjoyable experience!